Location and Venue
Vitória, Espirito Santo | Brazil
Conference Venue
3rd CMAS South America – 2017 will be held at Sheraton Vitoria Hotel. It is located in the Praia do Canto of Vitória, Espírito Santo, Brazil.
Venue Name: Sheraton Vitoria Hotel
Address: Saturnino de Brito Avenue, 217, Praia do Canto, Vitoria, Espirito Santo, 29055-095, Brazil
Phone: (55)(27) 2125 8000
Local Area
 Business and leisure travelers alike will love the Sheraton Vitoria Hotel's stunning oceanfront location in Praia do Canto. One of the city's most desirable areas, it provides easy access to beaches, attractions, and nightlife options.
Just across a nearby bridge is Vila Velha, a popular destination known for its attractive beaches, diverse shopping, and the Garoto Chocolate Factory. Within a kilometer of the hotel are two shopping centers, one of which—the Bermuda Triangle—features restaurants, bars, and clubs.
If you are traveling by car, please see driving directions, from the airport or any other location.
Getting Here
Airport – Eurico Sales Airport (VIX)
Travel Distance: Approximately 15.0 km/9.32 miles
Airport
Eurico de Aguiar Salles Airport (Goiabeiras) is located on a land plot of just over 5.2 million square meters. Since construction of its first step, finished in 1946, Vitória Airport has undergone several expansions and modernizations, but current demand has surpassed its capacity of 2.9 million passengers a year. The passenger terminal is air conditioned, with a constructed area of nearly 17,000 square meters, a check-in concourse, 25 check-in counters and boarding and arrival lounges. The recent construction of new aircraft parking boxes on the aprons has improved the airport's operational efficiency.
About Vitória
The conference will be held in Vitória, Espírito Santo , Brazil. The closest airports are Eurico Sales Airport (VIX).
Vitória is the capital of the state of Espirito Santo, Brazil. It is located on a small island within a bay where a few rivers meet the sea. It was founded in 1551. The city proper (area 93km or 35.9 sq mi) has a population of nearly 350,000 while the greater metropolitan area has a population of more than 1.8 million, the 14th largest in Brazil. In 1998, the United Nations rated Vitória as the fourth best state capital in Brazil to live in, rating cities on health, education, and social improvement projects. The city is also home to the Federal University of Espirito Santo.
Vitória's economy is based on port activities, active trade, industry, and also providing services to business tourism. The capital of Espírito Santo has two ports that are the most important of the country: Port of Vitória and the Port of Tubarão (Shark). The most important industries are the capital's Arcelor-Mittal Tubarão and Vale. These ports form the largest port complex in Brazil.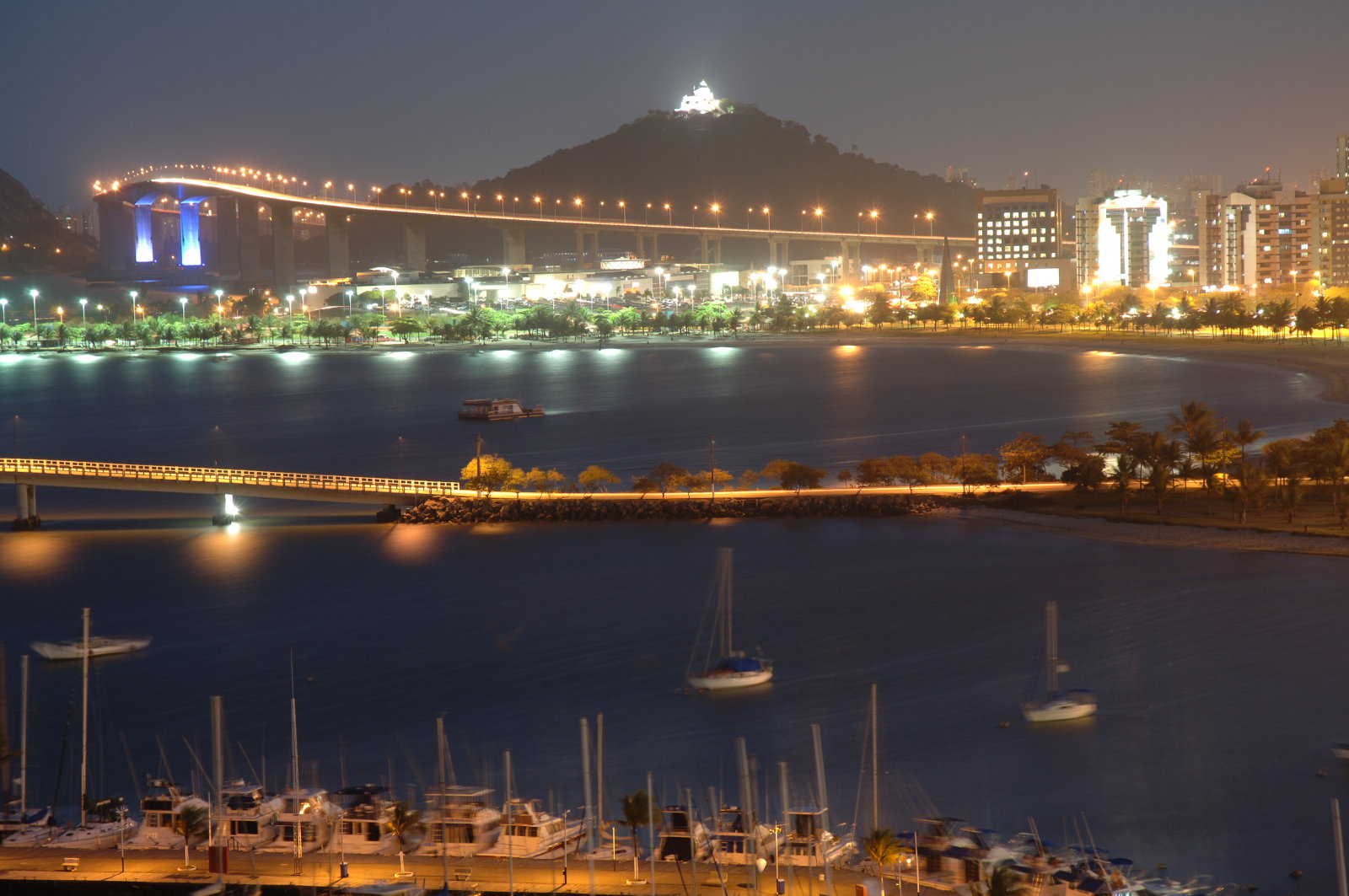 Places to Eat
Restaurant
Mean Price
Distance from the Conference Place
Observations
Phone
Sheraton
R$ 55.00
–         
Minimum of 40 people – Buffet
Lareira Portuguesa
R$150-200
84 m – 1 min walking
Restaurant (11:30-15hs)
(27) 3345-0331
Victória Grill
Rotation service of meat: R$79.00 (not work on Monday), Self-service: R$59.90/kg Japanese food: R$89.90/kg

450 m – 5 min walking
Barbecue Restaurant (11:30-15hs)
(27) 3345-0888
McDonald's
R$30.00
81 m – 1 min walking
Fast food
–
Sabor Natura
R$ 37.90/kg
2.2 km – 6 min by car
Vegetarian Restaurant (11-14:30)
(27) 3324-6754
Deboni's
R$ 59.90/kg
280 m – 4 min walking
Self-service Restaurant (11-15hs)
(27) 3315-6697
Oliva
R$ 58.50 /kg
400 m – 5 min walking
Buffet Restaurant (11:30-14:30hs)
(27) 3317-0610
La Salsa
R$ 58.90kg
400 m – 5 min walking
Self-service Restaurant (11-15hs)
(27) 3315-7511
Sabor de Minas
R$ 38.90/kg
500 m – 7 min walking
Brazilian Restaurant (11-14:30hs)
(27) 3227-2189
Taurus
R$ 40-75/plate
350 m – 5 min walking
Restaurant (11:30-15:00hs)
(27) 3225-4888
Cantina Fiorentina
R$ 54.90/kg (Monday-Thursday) R$ 57.90/kg (on Friday)
400 m – 5 min walking
Italian Restaurant (11-14:30hs)
(27) 3227-5797
La bamba
R$ 38.90/kg
450 m – 6 min walking
Self-service Restaurant (11-14:30hs)
(27) 3225-0135
Satsuma
Brazilian food: R$49.90/kg

Japanese food: 79.90/kg

400 m – 6 min walking
Japanese Restaurant (11-14:30hs)
(27) 3325-1015